Wheels of Arabia entry for Ducati Custom Rumble Contest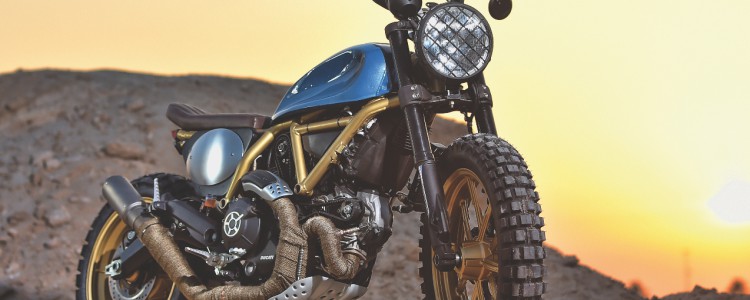 One successful achievement of Wheels of Arabia this year was becoming one of the finalist for the Ducati Custom Rumble Contest.
Custom Rumble is a Worldwide contest for Ducati Dealers to realize and transform a Scrambler special. The goal is to post an image or a short video of the creation through Instagram account using hashtag #customrumble and @customrumble tag for every caption. Winners of each geographical area is chosen based on the most liked Scrambler Special voted by Instagram users.
Wheels of Arabia team came up with an entry named ScramblrArabia: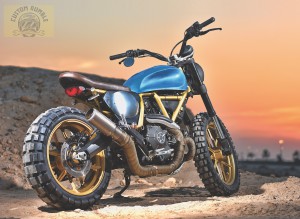 The concept of the bike was to build a menacing off-road tracker retro bike, and the gem on this bike would be the custom shaped scrambler tank.
The complete frame was cut and powder coated gold with the alloy wheels to match. In keeping with the off road theme, we paired the wheels with a pair of continental TKC tires and gave the bike a headlight with mesh grill.
The exhaust is a titanium muffler with a titanium link pipe wrapped in heat wrap to bring out some of the retro as part of the theme.
The seat is a custom stitched leather seat made to fit the chopped subframe.
Other modifications includes:
-painted handlebar
-painted brake calipers,
-NRC turn indicators,
-V7 side cover with chrome plate,
-exposed belts,
-engine guard borrowed from the Urban Enduro model.
The ScramblrArabia will be visible in the upcoming World Ducati Week on July1-3 at Misano, Italy and will compete with the rest of the finalist.
Stay tuned for more updates in our social media accounts.
Related Posts
Comments (0)