Vespa celebrates 70th year anniversary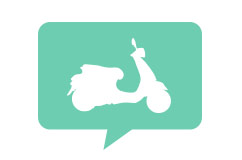 The Piaggio Foundation celebrates the 70th anniversary of the Vespa with an important exhibition looking at one of the most intriguing and evocative aspects of the history of the "world's best-selling scooter", whose devotees have grown constantly since it made its debut: travel.
Launched in the immediate postwar period as a means of individual transport to help get the whole country moving again, over the years the Vespa has established a legendary reputation as a symbol of freedom and movement. An inseparable companion for the first Sunday outings in the rapidly changing society of the 1950s, and for the rites of passage of generations of youngsters (as a mark of distinction and a means of emancipation), the Vespa has always been the intrepid protagonist of the adventures of large numbers of travellers, whose expeditions on two wheels have caught people's imagination.Thanks to its extreme manageability, reliability and adaptability, the Vespa provides the perfect means to explore the world in absolute freedom.
Every trip with a Vespa turns into a unique, original adventure, fired in equal measure by the desire to eat up the miles without a care in the world and by endless curiosity. So thanks to these travellers too, the Vespa has ridden and continues to ride the roads of every continent under the admiring gaze of millions of people, creating a strong sense of belonging to an ever-growing community of insatiable globetrotters.
Source:
Related Posts