The DRE Returns to Bahrain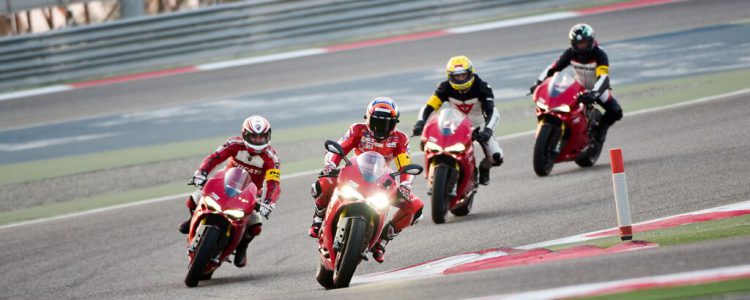 Wheels of Arabia, in collaboration with Ducati Riding Experience, returns for a special DRE day at the Bahrain International Circuit on 18th March. Following the initial October DRE, which saw participants from all over the globe enjoy a unique experience, the very best Ducati instructors will soon be back together on one of the world's most fascinating, renowned race tracks.
Once again, the ride sessions will take place after sundown and involve only a restricted number of participants. This is to ensure each individual receives finely-targeted training and gets the very most out of this unique, passionate learning experience.
Here then, is the training programme and relative prices for the Bahrain DRE:
the Beginners course, an opportunity even for those who don't have a motorcycle licence to learn the basics, thanks to expert instructors who'll provide you with all the necessary skills to become a real motorcyclist.
Bikes available: Monster 821, Scrambler
Places available: 8
Price: € 350 per participant / BD 144
the Track Evo course, intended for those who already have some familiarity with on-track cornering; riding a Superbike, you'll hone your skills and learn how to take bends faster and exploit every drop of acceleration – on any circuit.
Bikes available: 899 Panigale, 959 Panigale
Places available: 30
Price: € 1000 per participant / BD 410
the Track Master, suited for experts who want to start exploring the world of competition and need to learn how to make the most of their potential and maximise performance and consistency.
Bikes available: 1299 Panigale S
Places available: 6
Price: € 1,400 per participant / BD 574
If you're interested and would like to reserve a place please write to dre@wheelsofarabia.com or call +973 39922278.
Don't miss this opportunity to experience something truly unforgettable.
Related Posts